It was late in February, 1963, when we arrived at Koussy following a couple of false starts at developing a project. With several dozen Senegalese homesteaders, we managed to build some 35 houses - a new village, Koussy trois, a km. or so from Koussy.
In 1988, I visited Senegal to see my frineds and attend a party at Thies to mark the 25th anniversary of Peace Corps in Senegal. I found Koussy "trois" fully occupied and functioning. In July, 2010, I visited Koussy 3 again and found it in the condition pictured below. I was stunned. The story as far as I know it is complicated and I prefer to face the future rather than speculating about rumors that may not be true. The fact is, no family resided there when I returned last year; it appeared to be merely a bleached skeleton. I was sad as I left Koussy 3.
Yesterday, a friend who teaches in nearby Koussy sent me some pictures, one of which is posted with this entry. Again, I am amazed. Is it possible that Koussy 3 may again function to house families? I am hoping so and looking forward to learning more when we return to Senegal.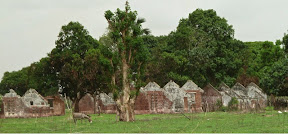 Koussy "3" in July, 2010-an empty shell that once housed 35 families.
Restoring a building at Koussy "3" May, 20, 2011-quite a surprise. (photo by Boubacar Seydi)
- Posted from my iPad